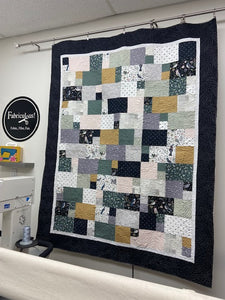 Introduction to Quilting
Introduction to Quilting
Tuesdays October 10,17, 24 6:30pm-9:30pm 
Instructor: Wendy van der Walt
Class fee: $90  - Includes Pattern   
Discover how easy it is to get started quilting – or to refresh your basic skills.  This is also a great class to take to get comfortable working on a sewing machine.    Learn about safe rotary cutting, sewing an accurate quarter inch seam, basic quilt construction and much more as you work towards completing  a lovely lap quilt. A sewing machine in good working order is required; nothing fancy; just needs to sew a straight stitch. You will also need a rotary cutter, 6 x 24 inch ruler and cutting mat for this class. Fabric costs for this quilt top can range from $50 - $70, depending on your selections.  NOTE:  in the class time frame, you will be able to complete a lap size quilt top.   Instructor will share different options for finishing your top into a completed quilt. 
CLASS POLICIES: PLEASE READ THESE BEFORE REGISTERING
 All classes will take place at Creation Nation - 440 Rosser Avenue in Brandon -directly across the street from Fabriculous.   
 If the minimum number of 6 students  required to run the class is not met, the class fees will be refunded.
 If you have signed up for a class, please be sure you can attend.  The room has been booked and must be paid for, therefore there are absolutely no refunds or reschedules if you are not in attendance.   Class fees and spots are transferable to another person in advance if you cannot attend; please inform us of any changes.
 If we have to cancel a class due to unforeseen circumstances, ie: instructor illness, weather, venue issue - class fees will be refunded.
We strive to keep the cost of our class fees affordable.  It helps us to do so when you support us by purchasing your supplies from the selections in our shop.
At Fabriculous we respect the hard work of independent pattern designers:  no photocopies of patterns or books are allowed in our classes.
Unless otherwise indicated class fees DO NOT include supplies and tools.